Katrina Julia
Top 10 Atlanta, GA Things to Do
Atlanta is the capitol of Georgia, located in the southeast of the United States. Atlanta is known for playing an important role in the Civil Rights Movement, home to CNN headquarters, and hosted the 1996 Olympics. Whether you will spend One Day in Atlanta, GA a week, a month, or live here like I did for 10+ years from 2010-2020 (and soon will again), you will love it!
In 2010, I moved to Atlanta, GA with an Oil and Gas Company as a Chief Audit Executive and lived there for 10 years. Although I was born in Poland, I've lived most of my life surrounded by the concrete jungle in Houston, Texas. I wasn't quite prepared for the unparalleled beauty of the "city beneath the trees". During that decade and recently, I learned a lot about things to do in Atlanta.
During my first few years living in Atlanta I was drawn to green space in the city, such as the Chattahoochee River. It was only a short walking distance from my first apartment making it easy to visit often. Being surrounded by the Chattahoochee Hiking Trails filled my apartment with the wonderful smell of pine filled my home every single day.
Although you may not think it's unusual to have an experience like this in a large city like Atlanta, in many surrounding neighborhoods this is quite common in the city beneath the trees.
I can not describe how such a large city could feel like a small town too.
When you're out exploring things to do in Atlanta, the ease of walking in areas of town from Midtown to Buckhead is astonishing. I love walking to the grocery store, gym, and nearby Lenox Mall. Every time I take the MARTA public transportation railway, I feel like I am transported to another part of the world. Atlanta has so many different neighborhoods including, but not limited to, Buckhead, Midtown, and Little Five Points.
You may find it surprising that during my last few years in Atlanta, I didn't own a car and could still easily enjoy all the things to do in Atlanta that I loved. You can lower your carbon footprint by over 4,800 pounds annually by not having a car. This coming from the girl who had 7 different cars by the time she hit 30. If I can do it, anyone can.
One of the great things to do in Atlanta is visit Chastain Park and Piedmont Park. Just like the "pied" in the name suggests, these are great walking parks. Biking the Beltline, or renting a scooter to explore the city are super adventurous things to do in Atlanta.
Atlanta doesn't just capture your heart, but your taste buds as well. Being immersed in delectable eateries all around Atlanta, like Eat Flower Child and True Food Kitchen, is a joy.
From the moment I moved to Atlanta, the city captured my heart in many ways.
You'll catch me saying, "It was love at first sight, then we got married".
It's not easy to narrow down Atlanta, GA to a Top 10, especially when you have so much history and life in a city!
My Top Atlanta, GA Things to Do includes Centennial Park, Skyview Atlanta, Georgia Aquarium, Original Selfie Museum, National Civil Rights Center, Martin Luther King Jr. National Park, Piedmont Park, Ponce City Market and Beltline, Gibbs Gardens, and Foodie Favorites!
Atlanta, GA Top 10 Things to Do
Atlanta, GA
Atlanta is one of the most vibrant cities for tourism in the world.
Atlanta, GA Highlights
Hosted 1996 Olympics throughout the city

Martin Luther King Jr. Birth Home and National Park

CNN Center Headquarters in Atlanta, GA

Known as Hollywood of the South including Tyler Perry Studios

20+ Museums including Atlanta History Center, High Museum, and National Civil Rights Center

Countless Parks and Green Spaces including Piedmont, Chastain and Centennial Park

World Famous Fox Theater, Coca-Cola, Georgia Aquarium, Delta Airlines, all located in Atlanta
You may not know that for many years, Atlanta's Hartsfield Jackson Airport is one of the busiest airports, with 110 million passengers annually on average.
I share fun facts, travel, and tips in One Day in Atlanta, GA too!
Atlanta, GA you have a peach of my heart
All shots are my own on Canon EOSM100, Sony A330, and/or my iPhone 13 or via Airbnb.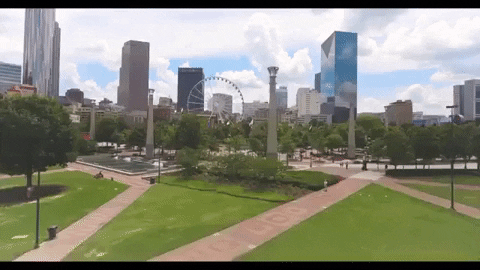 Top 10 Atlanta, GA Things to Do
You will find many things to do in Atlanta, GA far beyond the Top 10 Things to Do I highlight.
Keep in mind I lived in Atlanta, GA 10+ years, and will live in Atlanta again as my home base in 2022. There is a lot I have explored in 10 years!
My Top Atlanta, GA Things to Do includes Centennial Park, Skyview Atlanta, Georgia Aquarium, Original Selfie Museum, National Civil Rights Center, Martin Luther King Jr. National Park, Piedmont Park, Ponce City Market and Beltline, Gibbs Gardens, and Foodie Favorites!
I loved so much in Atlanta, GA from parks and green spaces like Piedmont Park, Gibbs Gardens, and Chastain Park, going up in Skyview Atlanta, walking through the Japanese Gardens at Gibbs Gardens, having fun and creating content at Original Selfie Museum, countless foodie favorites like True Foods Kitchen, Two Urban Licks, and Eat Flower Child.
I am sharing what I experienced and insider information to consider in planning your visit that will save you time and money!
In putting together the Top 10 Atlanta, GA Things to Do, I considered how I would experience travels knowing what I know now to make it easy, efficient and enjoyable for you!
1 Centennial Park
Starting off your day in Centennial Park is great way to start travels in Atlanta, GA because of the history, location, and proximity to several tourist attractions close by!
It's right by the Marta Line Station State Farm Arena/Mercedes Benz Station/Centennial Park, Skyview Atlanta, Georgia World Congress Center, Georgia Aquarium, and Civil Rights Museum.
Centennial Olympic Park first opened in 1996 with the Summer Olympics. At the time, It was the world's gathering spot. I may only imagine how amazing it was to be here. Now, the Park typically hosts festivals, live entertainment, and various activities for children. *The events vary due to COVID.
I love walking through the park, running through the dancing fountains, sitting by the fountain monument, and reading on the green space.
I've taken my mom and friends here when they come to visit!
Whether you spend One Day in Atlanta or longer, a stop at Centennial Park is a must!
2 SkyView Atlanta
After you visit Centennial Park, you will want to see one of the best views up high at Skyview Atlanta.
It's right across the street and will see it everywhere you turn while you are in the park.
The SkyView Ferris Wheel towers nearly 20 stories about Centennial Park featuring 42 climate-controlled + private gondolas with breathtaking panoramic views of downtown Atlanta. Visit their website for hours and tickets.
Day or night, you will experience spectacular views of Atlanta's Skyline.
Atlanta Skyview PC: UrbanSoul via IG @skyviewatl
I went on it once one of the times my friend, Angela came to visit me in Atlanta.
3 Georgia Aquarium
Georgia Aquarium houses over 100,000 species with 11 million gallons of water. It is one of the largest aquariums in the world, and perfect for a solo, group and family visit.
You will get to experience the world beneath the waves at Georgia Aquarium.
Expect to spend anywhere from 2-4+ hours easily.
Georgia Aquarium Beluga Shila
They have a variety of experiences and encounters that you and the kids would love. I love to climb underneath the penguin portals, watch the shows, pet the starfish (two fingers only!). There is so much you will learn about the world beneath the waves. They have a behind the seas tour I just learned about, animal encounters, and a sleep under the sea experience. I hope to have an animal encounter in the next year or less.
I love anything to do with the ocean. I got to swim with dolphins in Jamaica a few years ago. They are so playful! We hugged and they picked me up with their noses so I surfed across the water so to speak!
Did you know they can tell if a woman is pregnant well with their vision? The main reason why I became a certified scuba diver is I love the ocean, wildlife, and silence in the water.
The Georgia Aquarium also offers a diving experience so who knows what the future holds. No matter how you spend your visit to the Georgia Aquarium, you will get lost in the encounters and experiences.
I've been to Georgia Aquarium several times. Each and every time, I learn and experience something new. I went for the first time in 2010, when my best friend, Janelle came to visit. She passed away in 2013 from cancer. I share more about her in my transformation story. I love that I got to visit with her, my mom, and recently for a networking event in 2019.
4 Original Selfie Museum Atlanta
If you are a content creator, online educator, and/or lifestyle entrepreneur, you will want to add the Original Selfie Museum in Atlanta to your list! Whether you start or end your day in the most Instagrammable place in the nation, you will love it.
With a location about a mile from Centennial Park, it is easy to fit in the Original Selfie Museum during your travels to Atlanta, GA. Although the National Civil Rights Center and Coca Cola Museum is right next the Aquarium, you may want to head on over to Original Selfie Museum first. The National Civl Rights Center will be an emotional visit.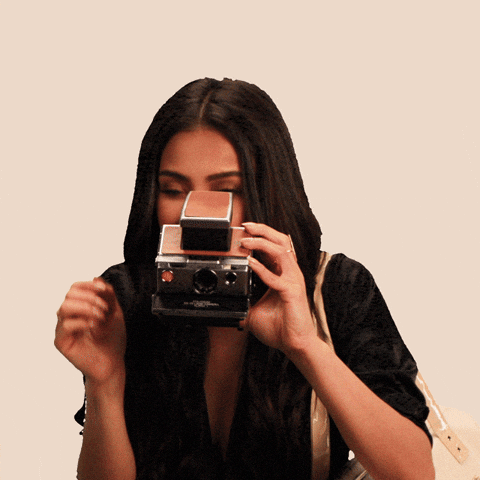 When you visit the Original Selfie Museum, you get an hour, unlimited outfit changes, 30+ backdrops, and get to bring your own camera! It is great for fun, creating content, a BFF day, and family time too!
If you are a photographer, want content regularly, and host workshops, you may want to look into their memberships nationwide!
I connected with their team in Atlanta early in 2022, and they hosted me. In an hour, I shot enough content for Instagram for weeks, additions for the website, blogs, ebooks, and courses! I hosted an online content creation workshop too!
Although Original Selfie Museum hosted me, 100% of opinions are my own!
5 National Center for Civil and Human Rights
After you come back from Original Selfie Museum, or decide to visit the National Center for Civil Rights on another day, you will remember exactly where to go to find it.
If you walk back across Centennial Olympic Park, you will see the complex with the National Center for Civil and Human Rights, Georgia Aquarium and the Coca-Cola Museum all next to one another.
When you visit the National Center for Civil and Human Rights, bring tissues.
On one of their experiences, you sit down and put headphones on your ears (that's all I will tell you), I bawled like a baby and my heart broke again.
The National Center for Civil and Human Rights has the heart at its core.
National Center for Civil and Human Rights
You will explore the fundamental rights of all human beings. You will leave empowered to join the conversation in your community. Most importantly, make an impact to transform our world.
I went in 2019 for the first time on a weekday (I love to break up my days with fun activities). I loved my visit. I felt informed, transformed, and inspired.
I connected on a profound level with the refugee wall as I was born in Poland, left Poland at 6 months old, and lived at a refuge camp for almost a year in Italy with my parents. As I read the stories, I imagined what it was like for my parents back then.
The center share stories and immerses you in experiences that embody empathy.
You and/or your group and family will easily spend 2 hours at the Center.
6 Martin Luther King Jr National Park