Katrina Julia
One Day In Atlanta: Itinerary to Transform and Travel in Atlanta. GA
Updated: Jan 15, 2022
You love to travel and have new experiences. You want to get away, recharge, and stay healthy while traveling. Traveling helps you release stress, reinvent yourself, increase happiness, and enhance creativity. You want fun, food, and fitness when you come visit to Atlanta, GA. Maybe, you want to come with your family too? You want to transform and travel.
It's easy to see why Atlanta is ranks in Travel + Leisure's most charming, friendliest cities, and most cultured cities. The city combines fun, food and fitness in every way.
There's plenty to experience one day in Atlanta, GA to transform and travel whether you come solo or with family. After you read this, you may want to stay in Atlanta, GA longer.
Follow this One Day in Atlanta, GA: Itinerary to Transform and Travel. It will help you make the best of your trip even it's a short one. These are my recommendations for the top sights and fun, fitness, and food for your one day in Atlanta. My intention for you is that you choose happy.
ONE DAY IN ATLANTA, GA
Atlanta, GA Original Selfie Museum
Eat Flower Chiild: Atlanta, GA Lenox Mal
My Experiences With Atlanta, GA
If you are connecting with me and us for the first time with FIT Life Creation, I live in Atlanta.
Since I live here I thought it would be great to do our first one day guide on Atlanta.
For a few years, Atlanta was on my radar to visit. In between life and other travel, I hadn't gotten to it yet. When I first came here for an interview, I loved it right away. It really is the city beneath the trees.
The second time I came here I took the train out of the airport directly to Buckhead. Anytime I travel, whether domestically or internationally, I love having convenient public transformation.
I've lived here since 2010. I moved to Atlanta when I was promoted with an energy company to be their Chief Audit Executive in Buckhead in Atlanta. I chose to stay when I became a full-time entrepreneur in 2011 because of the innovative, eclectic, and diverse energy here.
It really was love at first sight for me with Atlanta, and then we got married.
I've gotten to experience most if not all the Top Atlanta sights like Centennial Park, CNN Center, Civil Rights Center, and Ponce City Market. For the foodies, my yummiest moments with friends and family include Two Urban Licks, Mary Mac's Tea Room, Eat Flower Child, and True Food's Kitchen.
I've moved and grooved at fitness studies and danced the night away at Atlanta's dance clubs too. Even though I live here, I love get a ways and having a staycation in the city too.
Fun Facts About Atlanta, GA
There are over 400,000 people living within the city limits. Atlanta is great city to live in, as well as visit and explore.
Atlanta is known for its culture, history, and entertainment. It is a city that rises from the ashes.
During the Civil War, Atlanta was the only city in all of North America to be destroyed in an act of war. The city later adopted the phoenix as the city symbol. Two of Atlanta's sons won the Nobel Peace Prize – Martin Luther King in 1964 and President Jimmy Carter in 2002.
Beyond its history, Atlanta has risen to be one of the most world reknown cities in the world. Atlanta is home to CNN - Cable News Network, Centennial Olympic Park, Georgia Aquarium and the National Center for Civil & Human Rights - some of my favorites.
One of best places to capture sunset in Atlanta is the Jackson Street Bridge.
The city continues to risk in the ranks for its footprint with entertainment. It's called "Hollywood of the South", it's home to Tyler Perry Studios, and the movie Bad Boys was filmed here too.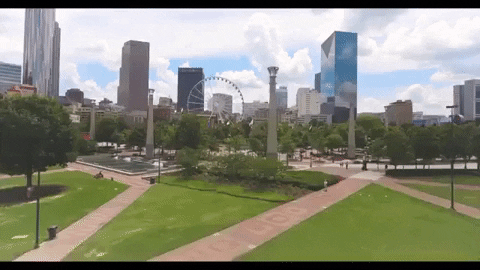 Centennial Park pictured in the GIF.
It's hosted two Super Bowls (I've been to a Atlanta Falcon's game in 2010), home to Atlanta Hawks NBA Team (I've been to 2 games), and home to Atlanta Braves MLB (I went a game when my friend, Isabel came to visit in 2010, and I volunteered at a game once for Leukemia & Lymphoma's Society: Team In Training!).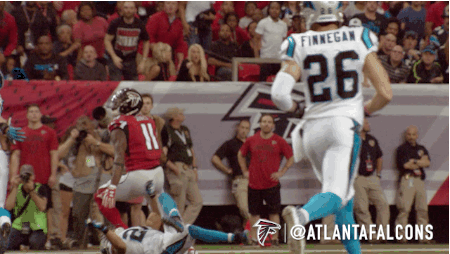 The city has many diverse neighborhoods. I love living in Buckhead because I walk everywhere or jump on the train. I take Lyft or Uber maybe 2-4 times a month. It's that walkable here in this part of the city (and others), and public transportation friendly.
I ended up leaving Atlanta, GA in 2020 for a year to travel the world full-time. I thought I wouldn't even think about coming back before 2+ years. So, it surprised me when I found myself back in the USA in Houston, Oklahoma, and Atlanta the end of 2021. I discovered a new found appreciation for the US and Atlanta as well.
During my 3+ weeks in Atlanta the end of 2021, I ended up spending time with friends, working from home, visiting Atlanta Botanical Gardens Garden Lights, City Nights, Original Selfie Museum, and Delta Flight Museum right before taking off from Atlanta!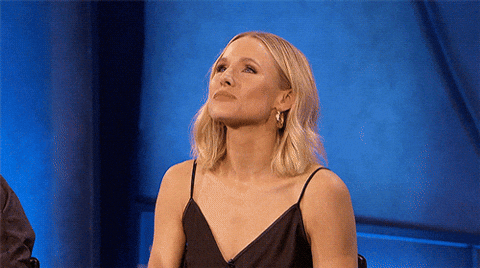 One Day In Atlanta: Itinerary to Transform and Travel in Atlanta. GA
So let's explore the fun, fitness, and food I recommend for One Day in Atlanta, GA.
Depending on when you arrive in the city, and where you stay, feel free to modify your experiences!
I'm sharing here a full 24 hours for your one day in Atlanta. I'm giving you more reasons to stay longer. I may be biased LOL.
Centennial Olympic Park
I recommend you start your day bright early here. It opens at 7 am the majority of the year.
Make sure and check before you go.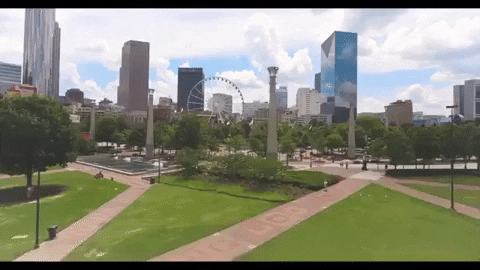 Centennial Olympic Park first opened in 1996 with the Summer Olympics. It was the world's gathering spot. I may only imagine how amazing it was to be here then. It now hosts festivals, live entertainment, and various activities for children.